Arlington Weather at Rangers Ballpark in Arlington
| | |
| --- | --- |
| | Click on the banner to the left to find out if the latest Arlington weather forecast will affect the baseball score. Or learn how you should dress for today's Texas game at Rangers Ballpark in Arlington. |
The Texas Rangers and the city of Arlington announced that they had reached an agreement to build a new ballpark October 1990. In March 2007, the team severed a 30-year naming rights deal with struggling lender Ameriquest Mortgage Co. and rebranded their home field as Rangers Ballpark in Arlington.
This $191 million complex also includes a baseball museum, a children's learning center and a four-story office building, as well as a youth baseball park, 12-acre lake, and parks and recreation space on the perimeter.
Rangers Ballpark in Arlington (1994-present) is an open-air stadium. It has a spacious and almost symmetrical field with quite deep and flattened power alleys (388 and 377 feet).
The Texas Rangers' home park is one of the best hitting parks in MLB baseball. With the summer wind in mind, engineers designed the field 22 feet below street level and placed a 42-foot high windscreen on top of the office complex in centerfield.
While the engineers were successful slowing the winds down somewhat in the southeast, they were unsuccessful slowing down the winds to centerfield. Winds roaring out of the concourses create a giant wind tunnel, which kills fly-ball pitchers and rewards power hitters.
As a hitter's ballpark, ESPN ranks Rangers Ballpark in Arlington #7. In 2010, Rangers Ballpark in Arlington ranked #10 in total runs scored per game for both teams with 9.31. Only Coors Field (10.59), Yankee Stadium (10.31), and Fenway Park (10.01) allowed more than 10 runs per game.
If you know which way the wind is blowing and how each stadium is laid out, it can help you decide to go over or under on the Total. The top of the diagram below is North; right is East; bottom is South; and left is West.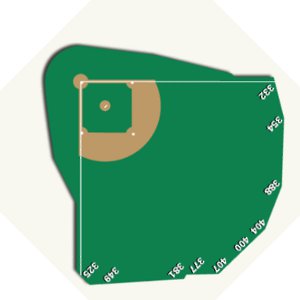 Knowing the Arlington weather can help you with your baseball betting.