MLB Weather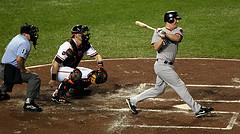 Just how much does MLB weather affect hitting in major league baseball? The biggest factor as far as weather goes is the wind. In his book "The Physics of Baseball," Robert Adair noted that every 1 mph of tailwind adds 3 feet to a 400-foot ball flight. For example, the amount of home runs leaving Wrigley Field often depends on which way the wind blows from Lake Erie.
While wind has the greatest impact on the ball, pressure and temperature could also be the difference between a home run and a deep fly ball to the warning track. Low pressure is less dense so a baseball will fly farther, such as in Denver. A bigger factor than pressure is temperature. Since warm air is less dense than cold air, a ball will travel further at 70° than at 55°.
To get the latest MLB weather for the baseball stadium nearest to you, click on the team links below.
| | |
| --- | --- |
| AL East | NL East |
| Oriole Park at Camden Yards, Baltimore Orioles | Turner Field, Atlanta Braves |
| Fenway Park, Boston Red Sox | Marlins Park, Miami Marlins |
| Yankee Stadium, New York Yankees | Citi Field, New York Mets |
| Tropicana Field, Tampa Bay Rays | Citizens Bank Park, Philadelphia Phillies |
| Rogers Center, Toronto Blue Jays | Nationals Park, Washington Nationals |
| AL Central | NL Central |
| U.S. Cellular Field, Chicago White Sox | Wrigley Field, Chicago Cubs |
| Progressive Field, Cleveland Indians | Great American Ballpark, Cincinnati Reds |
| Comerica Park, Detroit Tigers | Minute Maid Park, Houston Astros |
| Kaufmann Stadium, Kansas City Royals | Miller Park, Milwaukee Brewers |
| Target Field, Minnesota Twins | PNC Park, Pittsburgh Pirates |
| | MLB weather @ Busch Stadium, St. Louis Cardinals |
| AL West | NL West |
| Angel Stadium of Anaheim, Los Angeles Angels | Chase Stadium, Arizona Cardinals |
| Oakland Coliseum, Oakland Athletics | Coors Field, Colorado Rockies |
| MLB weather @ Safeco Field, Seattle Mariners | Dodger Stadium, Los Angeles Dodgers |
| Rangers Ballpark in Arlington, Texas Rangers | Petco Park, San Diego Padres |
| | MLB weather @ AT&T Park, San Francisco Giants |
If you've ever wanted to know How to Bet Baseball but weren't really sure how, you've come to the right place. We'll explain what you need to do to place bets on baseball in no time.
Are you looking for the latest MLB Scores? Check back here every day to find the latest MLB Scores for all 30 Major League Baseball Teams.
Going to a MLB game soon? Visit Baseball Stadiums for facts, history and photos for each of the 30 Major League Baseball Stadiums.
Get the latest MLB Schedule to see when your favorite baseball team is playing near you!
I've written a free report about how to make insane money betting on baseball. Instantly download Five Powerful Baseball Betting Systems ... FREE!
Grab Your Copy of the FREE Baseball Betting Guide And NEVER Struggle Betting on Baseball Again!