MLB Baseball Stadiums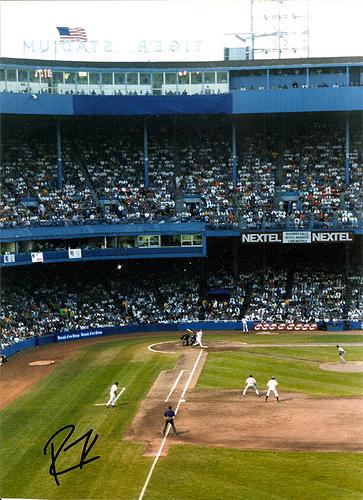 For many of us, major league baseball stadiums are the greatest places to watch sporting events. As you walk out from the cover of the tunnel heading towards your seat you become mesmerized with your surroundings.
From the time the first pitch loudly hits the catcher's mitt to the time the umpire screams the last out, the game's special charms are simply irresistible.
Although many fans have their favourite stadiums, it is extremely difficult to decide which one of the 30 MLB baseball stadiums is the best. All of
Photo Credit them are beautiful in their own way and all of them offer something unique.
If you're looking for classic ballparks immersed in history, the two oldest ballparks are Fenway Park (1912) and Wrigley Field (1914). Fenway, the oldest park in the Majors, is a living museum to America's pastime. It has a 37-foot high wall that extends straight from left field to center field (aka Green Monster), and one of the last hand-operated scoreboards in baseball in the left-field wall. Wrigley Field was the site of Babe Ruth's historic "called shot," when he allegedly pointed to the outfield bleachers during the 1932 World Series, then hit Charlie Root's next pitch for a homer.
If you're looking for modern facilities that offer good sight lines from every seat, and well-designed services, you may want to seek other parks. Dodger Stadium (1962) does a nice job of maintaining a classic feel while providing for a clean and comfortable stadium.
Some of the newer ballparks combine classic architecture and current elements to create a nostalgic feel but with comfortable surroundings. A few of the more beautiful and modern parks include Safeco Field in Seattle (1999), AT&T Park in San Francisco (2000), PNC Park in Pittsburgh (2001) and Busch Stadium in St. Louis (2006). All include great views, beautiful architecture, and a solid fan experience.
Every park is known for some type of signature such as the Green Monster at Fenway Park, Ivy covered brick walls at Wrigley Field, home-run slide at Miller Park, McCovey Cove at AT&T Park, B & O Warehouse at Camden Yards, and Tal's Hill at Minute Maid Park.
For facts, history and photos for each of the 30 Major League Baseball Stadiums see below:
| | |
| --- | --- |
| AL East | NL East |
| Oriole Park at Camden Yards, Baltimore Orioles | Turner Field, Atlanta Braves |
| Fenway Park, Boston Red Sox | Sun Life Stadium, Florida Marlins |
| New Yankee Stadium, New York Yankees | Citi Field, New York Mets |
| Tropicana Field, Tampa Bay Devil Rays | Citizens Bank Park, Philadelphia Phillies |
| Rogers Centre, Toronto Blue Jays | Nationals Park, Washington Nationals |
| AL Central | NL Central |
| U.S. Cellular Field, Chicago White Sox | Wrigley Field, Chicago Cubs |
| Progressive Field, Cleveland Indians | Great American Ballpark, Cincinnati Reds |
| Comerica Park, Detroit Tigers | Minute Maid Park, Houston Astros |
| Kauffman Stadium, Kansas City Royals | Miller Park, Milwaukee Brewers |
| Target Field, Minnesota Twins | PNC Park, Home of the Pittsburgh Pirates |
| | Busch Stadium, Home of the St. Louis Cardinals |
| AL West | NL West |
| Oakland-Alameda County Coliseum, Oakland Athletics | Coors Field, Colorado Rockies |
| Angel Stadium of Anaheim, Los Angeles Angels | Chase Field, Arizona Diamondbacks |
| Safeco Field, Seattle Mariners | Dodger Stadium, Los Angeles Dodgers |
| Rangers Ballpark in Arlington, Texas Rangers | Petco Park, San Diego Padres |
| | AT&T Park, San Francisco Giants |