Nationals Ballpark, Home of the
Washington Nationals

Nationals Park Overview
Nationals Ballpark, home to Major League Baseball's Washington Nationals, is the first LEED-certified green major professional team sports stadium in the United States. The Washington Convention and Sports Authority own the ballpark.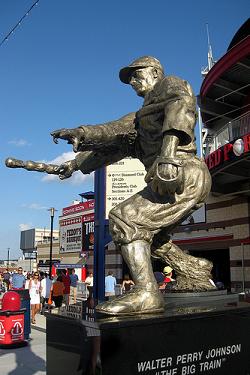 Nationals Park hosted its first regular season game in 2008 when the Washington Nationals faced the Atlanta Braves. The first non-MLB baseball game played there was a college baseball game. Located along the Anacostia River in the Navy Yard neighbourhood of Washington, D.C., Nationals Park replaced RFK Stadium as the home of the Washington Nationals.
Designed by Populous (formerly HOK Sport), the cost of constructing Nationals Ballpark was a whopping $611 million. The Nationals home originally had a seating capacity of 41,888 seats; however, they removed seats in the back to get down to its current capacity of 41, 546.
Distinctive features of the ballpark include a grove of cherry blossoms located just beyond the left field bleachers, views of the Capitol and Washington Monument from the upper decks, and the curly "W" logo mowed into the outfield. Also, a huge Washington Nationals hat sits above the main entrance of the Washington Nationals team store nearby the Central Field Plaza.
---
Nationals Park Quick Facts
Location: 1500 South Capitol Street SE, Washington, D.C.
Years: 2008-present
Seating capacity: 41,888
Surface: Grass
Architect: Populous
Project Cost: $611 Million
---
Nationals Park History
The Washington Nationals expected a banking syndicate led by Deutsche Bank to fund the construction of Nationals Ballpark. Talks stalled when Deutsche Bank requested a guarantee or letter of credit in case of poor attendance or terrorist attacks. After a series of complex negotiations between Deutsche Bank, Major League Baseball serving as the team's owner, and the city government, construction finally began in May 2006.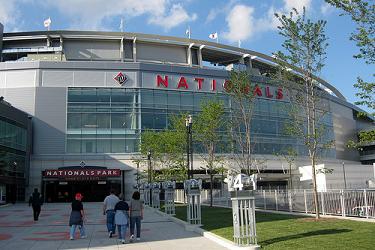 Mayor Anthony Williams chose the building site for Nationals Park out of four options. The team held a press conference on March 1, 2006 to release the design of the ballpark to the public. Groundbreaking was in early 2006.
The team's plan was to complete the construction of the ballpark in less than two years. The design concept allowed builders and architects to work together to complete the project. The coordinator and superintendent of the construction project, Ronnie Strompf, oversaw the day-to-day operations.
In the 2009 MLB off-season, the Washington Nationals modified Nationals Ballpark including an expansion of the Red Porch restaurant. Additions to the restaurant included slidable garage doors opening to a fenced outdoor patio and an outdoor deck.
Other park modifications included the installation of three statues in the ballpark honoring Walter Johnson of the original Washington Senators, Frank Howard of the expansion Senators, and Josh Gibson of the Negro League Homestead Grays, which played many of its games in Washington.