Citi Field, Home of the
New York Mets

Ballpark Overview
Citi Field, home ballpark for the New York Mets, is located in Flushing Meadows–Corona Park in the New York City borough of Queens. Completed in 2009, the Mets ballpark replaced Shea Stadium, which had been the home of the New York Mets since 1964.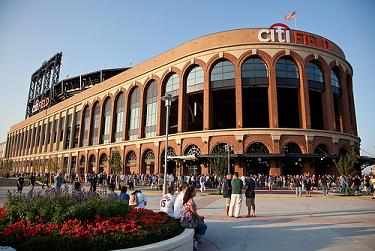 Designed by Populous (formerly HOK Sport), it cost $850 million to build the ballpark. To partially fund the stadium, New York City sold municipal bonds, which the Mets must repay with interest. The payments will offset property taxes for the lifetime of the park.
The first sports game at the Mets field was on March 29, 2009, a collegiate basketball exhibition featuring the Georgetown Hoyas versus St. John's Red Storm. The New York Mets played two charity games in their home park on April 3 and April 4 of 2009 facing the Boston Red Sox on both occasions.
April 13th, 2009 saw the first home game in the regular season with the Mets versus the San Diego Padres. It is almost certain that the Mets will host the 2013 MLB All-Star Game. The only other time the Mets hosted an All-Star game was in 1964 at Shea Stadium.
---
Ballpark Quick Facts
Location: 126th Street & Roosevelt Avenue, Flushing, NY
Years: 2009-present
Seating capacity: 41,800
Surface: Grass
Architect: Populous
Project Cost: $900 Million
---
Ballpark History
The New York Mets officially named its home ballpark Citi Field on November 13, 2006. Citigroup, Inc. pays $20 million dollars per year for the rights to name Citi Field over the next two decades, although they can extend it another twenty years. This $400 million contract is the richest naming rights deal in sports regarding a stadium.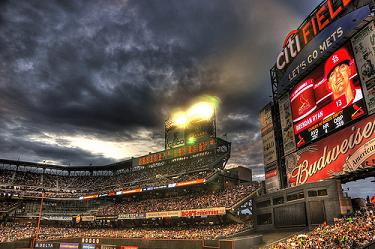 It is the second major professional sports locale in the New York City area named after a corporation. The Continental Airlines Arena is the other stadium.
The New York Mets revealed the design of their ballpark on March 18, 2006. Two months later in July, the groundbreaking began in Shea Stadium's parking lot. On April 13th, 2008, the Mets unveiled the Jackie Robinson Rotunda in the front entrance honoring the Brooklyn Dodgers legend for his life and accomplishments.
Behind the center field scoreboard is the 2K Sports FanFest area. It is a family entertainment area that includes a miniature wiffleball field replica of Citi Field called Mr. Met's Kiddie Field, a batting cage, a dunk tank, video game kiosks and other attractions.