Tropicana Field, Home of the
Tampa Bay Devil Rays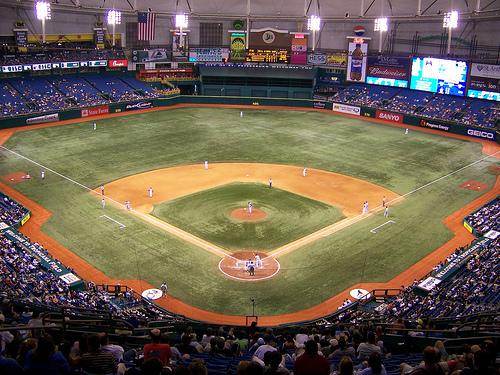 Tropicana Field is the only domed stadium without a retractable roof. Although they opened less than a year after the unveiling of the first retractable-roof ballpark in Toronto, retractable roofs was an unproven technology at that time. And when you consider that they did not yet have a professional team as a tenant, they took the safest and least expensive route.
When St. Petersburg decided it wanted to attract a major league baseball team in the early 1980's, they looked at options for a baseball park or a multi-purpose stadium. However, outdoor baseball in Florida during the summer months with the high temperatures and suffocating humidity can be unbearable. When you add in the unpredictable tropical storms, the City decided that a dome was the most viable option.
Originally called the Florida Suncoast Dome and later became known as the Thunderdome, Tropicana Field was originally built for baseball. But it wasn't until 1996 that they landed a major league baseball franchise. The Tampa Bay Devil Rays would make their debut in 1998.
This domed stadium in downtown St. Petersburg may not be the most desirable ballpark, but at least the locals have a winning team on the field for the first time. Unique to Tropicana Field is that the roof of the dome is lit orange after a Rays win. You will also see a touch tank of live rays for fans to feed and the Ted Williams Museum & Hitters Hall of Fame (both free for fans attending games).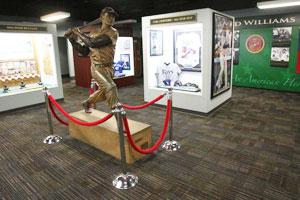 At The Ted Williams Museum and Hitters Hall of Fame, you can look at numerous artifacts and pictures of the "Greatest hitter that ever lived" from his days in the military through his professional playing career. This museum is dedicated to some of the greatest players to ever play including Willie Mays, Joe DiMaggio, Mickey Mantle, and Roger Maris.
---
Tropicana Field Facts
Official Name: Tropicana Field


Location: One Tropicana Drive St. Petersburg, FL 33705


Years: Stadium opened in 1990 but it did not become the home of the Devil Rays until 1998


Capacity: 42,735 (including standing room)


Surface: Field Turf with full dirt infield


Architect: HOK Sport


Project Cost: $138 million (1990); $80 million (1998 renovation)
---
Tropicana Field History
In the mid-1970's, Tampa was awarded two professionals teams: Tampa Bay Rowdies (1975) and the Tampa Bay Buccaneers (1976). Not wanting to be left out of the professional sports scene, St. Petersburg decided it would attempt to attract major league baseball to its sunny city.
Ignoring former Baseball Commissioner Peter Ueberroth's warnings against the construction of a stadium, the St. Petersburg City Council went ahead anyway with plans in 1986 to construct a domed stadium for baseball. In 1990, construction of the Florida Suncoast Dome was complete.
Although St. Petersburg had no professional team as a tenant, they thought that they could entice the Chicago White Sox to relocate to Florida. The White Sox were threatening to leave Chicago if they didn't get a new ballpark to replace the aging Comiskey Park.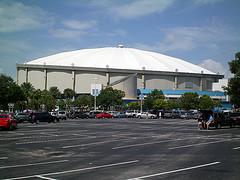 St. Pete's plan backfired when the governments of Chicago and Illinois eventually agreed to build a New Comiskey Park (now known as U.S. Cellular Field) in 1989.
In 1993, St. Petersburg was a finalist in the MLB expansion but lost out to Miami and Denver. Then there were rumors of the Seattle Mariners and the San Francisco Giants moving to Florida but neither worked out.
Photo Credit
Not until 1993 did the Suncoast Dome manage to gain a professional team as a tenant when the National Hockey League's Tampa Bay Lightning made the stadium its home for three seasons. In the process, the City renamed the stadium the Thunderdome. Due to the large capacity of what was basically a park built for baseball, several NHL attendance records were set during their time there. The Tampa Bay Storm of the AFL also played there and set attendance records for that league as well.
After the Tampa Bay Lightning moved out, they once again renamed the stadium Tropicana Field after reaching a naming rights agreement with Tropicana Dole Beverages.
Not till 1996 did Major League Baseball award St. Petersburg an expansion team of its own that would begin play in the American League in '98. To prepare for baseball, Tropicana Field closed in October 1996 for a 17-month, $85 million renovation that included adding 319,000 square feet of space.
New features to the Dome included the "Center Field Street". Open year round, Center Field Street contains an Ebbets Field inspired rotunda entrance, the Cuesta-Rey Cigar Bar, baseball's first in-stadium cigar bar, as well as other eating, shopping and entertainment venues.